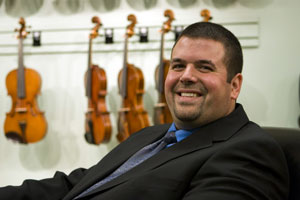 John Rihani
Manager
My name is John Rihani and I would like to take this opportunity to tell you why I am so excited about Encore Orchestral Strings. I can still clearly remember buying my first good cello with my parents when I lived in North Carolina. It was an exciting, thrilling, scary, and confusing experience. There were so many choices, so much conflicting information, and so many opinions. We were lucky to receive good advice from a shop we trusted and purchased a wonderful instrument.
Encore exists so that the process of choosing an instrument is relaxed, enjoyable, and fun. When you come to Encore and talk to me you can be sure you are getting honest information from someone who has been in your position before..
I invite you to visit me at the store and experience Encore for yourself.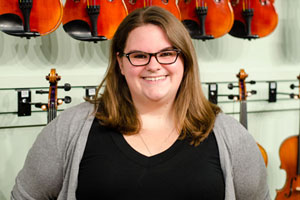 Regina Eddington
Specialist
Regina Eddington has been playing the violin for over 15 years.  She attended Valparaiso University and earned a Bachelor of Arts degree in Music Business in 2011.  After completing her bachelor's degree, she pursued a Master of Arts in Arts and Entertainment Administration which was completed in 2013.  She took up the viola after graduating from Valpo as a secondary instrument and hasn't looked back.  In September of 2016, Regina joined Paige's Music and Encore Orchestral Strings.  In her spare time, Regina actively plays violin in the Indianapolis musical theater community as well as with volunteer orchestras, runs a small violin/viola studio teaching private lessons, and also enjoys spending time with her family and 3 "human sized" dogs.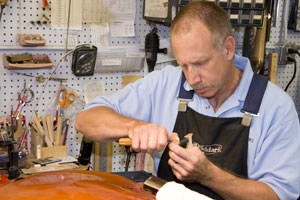 Tom May
Luthier
Tom May has been repairing violin family instruments professionally in the violin shop of Paige's music since 1985 and now is honored to repair for Encore Orchestral Strings as well. Tom received a Bachelor of Science in Music and Stringed Instrument Repair Technology degree from Indiana University in the spring of 1985. In addition to his degree, he received training in bow making from the University of New Hampshire and in stringed instrument repair in the shop of Peter Horn and Son. Outside of his repair career, Tom enjoys playing the bass and guitar, writing and arranging music and song leading in his church.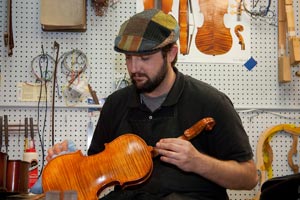 Derek DeZarn
Luthier
Derek DeZarn started building and repairing string instruments after high school when he attended the Roberto-Venn School of Luthiery in Phoenix, Arizona. He received his certificate in luthiery in 2002 and went on to work at Lakland Bass Guitars in Chicago and Rainsong Graphite Guitars in Seattle. From there he moved to Savannah, Georgia and apprenticed under Randy Wood, a legendary mandolin and guitar builder. After returning to Indiana he wanted to further pursue his interest in luthiery, so he enrolled at Indiana University. Here he studied String Instrument Technology under Professor Thomas G. Sparks. After successfully completing his first violin and graduating in the Spring on 2009, he became Professor Sparks assistant and began to repair many of IU's vast string instrument collection. In June of 2011 Derek started at Paige's Music and Encore Orchestral Strings. Outside of his repair career, Derek enjoys playing acoustic guitar, riding his bike and enjoying life.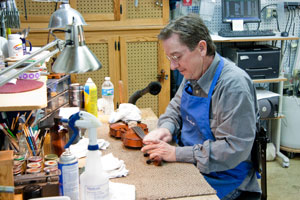 Fred Withrow
String Repair Technician
Fred Withrow's introduction to music was inevitable. His father was a band director and a fine trumpet player. "He received his bachelor's degree from Ball State University and his PHD from Indiana University. I have actually played gigs with some of his classmates from Ball State and they have told me he was something of a legend there for years after graduation. He went on to teach in Elkhart, Phoenix, South Bend, at Interlochen and the University of Michigan, wrapping up his career in San Diego. My mother was studying to be a concert pianist when they met and would accompany my father on recitals. My older brother, Sam, is a fine percussionist and still my favorite drummer to work with. My parents gave me the music genes, but it was Sam who encouraged me to learn to play the bass."
Fred started playing electric bass at age 12, playing along with records (mostly rock and soul) for hours on end. He played electric bass in high school jazz band and, at 17 and a senior, decided that the double bass was the sound for jazz. "I borrowed an old Kay bass from the school and started taking lessons from Eugene Crouse, who was principal bassist in the South Bend Symphony. As it would happen, he was also a fine string instrument repairman. So, as he prepared me for college auditions, we would also chat about repairing violins and such. I actually had a short apprenticeship with him one summer after my spring term at ISU. Unfortunately, he passed away late that summer. But the ground work for me had been laid and I never lost the interest in either music or repairing string instruments. I have been a professional bassist for 40 years and have more recently pursued string repair as a supplemental vocation. It was inevitable."